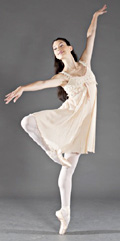 My name is Hannah O'Neill and currently I am in my second season with the Paris Opera Ballet. In 2008 I commenced my full time training at the Australian Ballet school. In 2009 I was placed 1st at the Prix de Lausanne, and the following year in 2010 Gold at the Youth America Grand Prix NYC Finals. I graduated with Dux from the Australian Ballet School in 2011.
I have many great mentors who have and continue to help me through my career, one of them being Timothy.With his intelligence, artistry and passion Timothy has inspired me and taught me a great deal which will stick with me always for the rest of my dancing career.
Hannah O'Neill
Paris Opera Ballet
2 December 2012
Hey to all of the NZ dance community,
As some of you know after almost 12 years of living in New Zealand Timothy Gordon is moving to Melbourne to live on this Friday the 18th of May.
I would just like to express my immense gratitude to Timothy for his creative input into dance in New Zealand over the years. I'm sure many of you will empathise with this.
Tim trained me when I first started dancing at the University of Auckland in 2002. From then on I spent almost six years dancing with Tim full-time, throughout my training and then with Company Z Dance which he directed. I remember him being incredibly patient and passionate with us all back then and when I look back I donít know how he did it! Since then and over the past ten years that Iíve known Tim he has taught me many great things as a dancer and a person.
Tim has taught me the importance of developing my sensibility as an artist and cultivating my character as a person. He has a unique way of describing what technique is, which is enriched with an exquisite understanding of musicality, co-ordination and artistry. He illustrates how important it is to aspire for a greater understanding of the world and to strive for a different atmosphere within the studio. He teaches that there are no limits with what one can achieve in all senses of the word and has always truly believed in me. His relentless energy and dedication towards all the dancers that have crossed his path has never faltered no matter what the circumstance and I feel that I can never repay the effort that he has put into me as a dancer and person. I feel extremely fortunate to have stumbled across Tim at the opportune moment of deciding to become a dancer and will always appreciate that lucky coincidence.
I know that Tim has invested much energy, time and passion into New Zealand over the last 11 years in all the different capacities he has worked in; teaching, lecturing, coaching, choreographing or directing at UNITEC, AUT, University of Auckland, City Ballet, Company Z, RNZB, NZBR NZ Opera and NZSD. Tim has also collaborated on creative projects with many other artists from different fields along the way, as well as continuing with his own personal research to develop and consolidate his ideology for dance coaching and The Alexander Technique.
There are far too many individuals that have appreciated his work to list here but many of you have contacted him already to express your gratitude and well wishes and I know that Tim has truly appreciated this.
Tim has been an amazing teacher, choreographer, friend and confidant and I wish him all the best in the next chapter of his life and everything that awaits him in Australia. His fresh outlook and unique classes will be very much missed by me and by many other dancers. I am incredibly sad to see him go as he has been such a wonderful friend and so inspiring over the years but I feel this move with be great for Tim and I wish him all the best for the future.
Wishing you the best of luck, love, health and happiness Tim. Thankyou for everything
Shanelle
16 May 2012
Timothy's
Floor Barre class
is one of the most beneficial classes I have ever taken. The focus on alignment and correct use of muscles has helped me 'feel' how to move my limbs in a way that does not create tension. As a result, bulky, painful muscles in my back, legs and shoulders have softened and lengthened, leaving me pain-free and leading me closer to my ideal of tension-free movement. I recommend this class to all, young and old, dancers and non-dancers, fit and not-so-fit.
Dr. Diana Kirk
June 6th 2012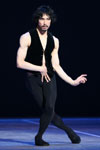 TIM,
You came to Tokyo Ballet Company in Europe Tour as a guest teacher in 1996.
Your class was very academic and always made us move to perform naturally. That's why we had great performances every day!
Yasuyuki Shuto
Ballet Dancer
http://www.sayatei.com/

October 6th 2009
He is my best teacher!!! His eyes look at the pure and clear core of the body as it dances.
TIMOTHY gave me new and exact points and challenges every day at Architanz in Tokyo. It was really fun to feel I was improving in each and every class. It makes me so motivated.
He is very exact about placement where the legs, arms and head should be. When he corrected me in this, I looked very much better. He always answered my questions kindly.
I'm so glad to have met him. He is the teacher whom I can truly trust. Thank you very much!
Asuka Watanabe
June 24th 2009
I just wanted to drop you a quick line to thank you once again for having our girls at your open class on Wed 15th April. They absolutely loved the class and are still talking about it. We have integrated some of your corrections and exercises into our open class and its just fantastic !!
Melissa Lee
April 27th 2009
I had studied with TIMOTHY GORDON before as a student and then years later as a seasoned professional.
His classes are fabulous and are the definition of pure classical dance. He takes you back to the basics, where you find the roots of your technique and are then able to fix flaws that have been with you for years. His eye for details and passion for the art of dance make his classes fun but also gives you a thorough workout. Having taken classes from teachers through out the world, in my career, Tim's classes are ranked amongst the best, he is truly a world class professional. New Zealand is fortunate to have such a resource at their disposal as most of NZ talent often escapes overseas to better pay and highly reputable companies.
Demetrius King
Dancer, National Theater Slovenia
August 24th 2007