The Singapore Dance Theatre in Timothy Gordonís Passages
September with Timothy Gordonís Passages, Goh Choo Sanís Double Contrasts and Paul Ocampoís Exultations
It is ironic. For a person who expresses himself better through movement than words, New Zealand-born choreographer Timothy Gordon can be pinned down in a word: eclectic.
Four years ago, he applied martial arts movement to dance in the work Breath Of Time, premiered by the Singapore Dance Theatre.
The music was by the Australian group Sirocco, whose brand of world music used Indian, Chinese and Western instruments.
Now, in another work, Passages, which receives its world premiere by the SDT in its September Season this weekend, Gordon uses the Alexander Technique which, though originated by an actor, has nothing to do with dance or the theatre.
The technique works on the principle that muscular tension in the body inhibits performance, not only on stage but also in all aspects of life.
It teaches one to release this tension and to be aware of the balance and articulation of the body, even in a activity like sitting.
Describing movement in words is never easy, but Gordon says this of his work: "It Is contemporary and fusion. You will see the head leading the flow of movement through the body and an unrestricted use of space."
It is not that the 36-year-old Gordon is being gimmicky.
He just happens to believe in adding on whatever he is studying at the moment to his Western classical and contemporary dance background.
"It is a pure dance piece. There are meetings in it, there are couples who are involved in relationships,Ē he elaborates.
"There are ideas which have to do with reflection of your own passage in life. It is an abstraction, but there are always themes and moods, and that is also created by the music, of course."
Gordonís choice of music is, indeed, no less interesting: This time round, it is two pieces from the famous Ravi Shankar-Philip Glass album, Passages. The melodic content is sinuous and haunting, the repetitive and insistent rhythms hypnotic and spellbinding.
PHAN MING YEN,
Extract from The Straits Times, Thursday, September 21, 1995.
Arts/Entertainment, Page Seven.
Maidment Theatre, Auckland, September 1994
NO LMITS, Company Z, Maidment Theathre, Auckland
At last Twenty years after Russell Kerr, Auckland again has a classically trained choreographer with a modern mind, and a company of New Zealand-born, internationally trained artists to match.
Tim Gordonís
Company Z
is a group of strong individuals, ranging in age from 18 to 40-something, obviously chosen for their variety of shapes, sizes and movement qualities. And what beautiful movement it is: intelligent, expressive, powerful and delicate by turns, it holds the eve as a good poem grips the mind.
In fact, the first two pieces are dance poems, vignettes of character and emotion woven by the choreographer on existing music. "Sonata for Seven" is set to an impassioned, percussive Prokofievís piano sonata. Three men battle savagely for dominance and against their own vulnerability; a woman, fearfully confronting the advancing years, takes courage and joy from a brief encounter with a younger man; a sharp-edged young couple, both fiercely individual, discover equality.
"Bedruthan Steps" in contrast, uses English composer Jon Surmans wistful, plangent wind-blown Jazz to call up gentle dances about choices we make loneliness or solitude, display or concealment, friendship or partnership. Gordon highlights the movement 'key' of each dancer. Lorita Travaglia, pliant and fine, subtle as a rapier. Nigel Gallienne with his ardent stage presence and handsome line; petite power-pack charmer Rebecca Paul, fleet and incisive; Geordan Wilson, sensitive actor in the body of a racing horse. Most memorable is statuesque Fiona Druskovich - her dancing sensuous and heady.
The third piece "Boutique Joy" is a satirical comment on consumerism, its wide comic images etched in vitriol. Actor-dancer Declan Manning uses Gordonís clever text notes and Japanese economy of gesture to underline the insidiousness of advertising and turns sundry items of whiteware into objects with chaotic results. Dancers and audience delighted in this quirky work.
Company Z lives up to its promise of "dance now". The dancers mentioned are just a few from Gordonís exciting roster, who, in his creative intelligence is up there with Graeme Murphy. William Forsythe, Jiri Kylian and John Cranko. If we pay mega bucks to see their companies, surely our own artists deserve at least our attention?
Listener magazine
October 1Ė7 week's issue in 1994. Dance. Creative Intelligence.
No Limits, Company Z at the Maidment Theatre last night and tonight
Timothy Gordon, choreographer and artistic director of this exciting new dance company, puts a cool and controlled face on his passion in the three works presented in this inaugural performance.
Sonata for Seven
is a formal abstraction to Prokofievís Piano Sonata,
Boutique Joy
a dramatic whimsy on the very commercial aspects of "home enhancement".
But the middle piece in the programme, Bedruthan Steps, which was created in Melbourne in June this year by the Melbourne Dance Theatre, illustrates Gordonís very latest thinking.
Informed by his study of the Alexander Technique, he has worked his choreography here on the intrinsic qualities of each of the dancers. But even in the resulting combination of very different movement styles, the piece remains eerily unified.
Performed to John Surmanís jazz score, it is billed as a study of "first encounters and individual choices" for six dancers. Last night there were only five - but without the programme intelligence we would not have noticed that something was amiss.
Nigel Gallienne and Geordan Wilcox danced with more than enough panache for three and Fiona Druskovich was a sensual and incredibly expressive centrepiece, flanked by Lorita Travaglia and Rebecca Paul.
Dramatic lighting, which does the work of sets and backdrops throughout, is particularly effective in Bedruthan Steps, especially in the line of dancers in duet with their blurred shadows against an ochre wall.
The closing moment, with one male and one female dancer almost meeting in the falling darkness, is particularly evocative.
In No Limits Company Z last night showed an auspicious and talented promise.
There were hints, as well, of its precarious foothold. A low budget inevitably reflects in costuming and staging. But there is little Gordon and Co can do about that unless they get the full-hearted support they have now proved they deserve.
by Bernadette Rae
NZ Herald
Friday, September 2, 1994 SECTION 1, Page 12.
Symphonic Poem
The Australian Ballet at its Best
The Australian Ballet opened its 1992 season at the Victorian Arts Centre on Friday night with two brilliant examples of what it does best. The company has an established reputation both at home and abroad for the successful presentation of original and imaginative works. Timothy Gordonís Symphonic Poem, a choreography to Josef Sukís Prague Op.26, premiered Friday, is certain to enhance the companyís eminence in this regard still further.
Symphonic Poem is a one-act work described as abstract by its creator. But Sukís composition is far from abstract as is most music of the late romantic period. It expresses zealous patriotism and almost hysterical anxiety for the beautiful city of his fatherland in musical terms of unmistakable realism. If Timothy Gordon means by abstract a concentration on form and pattern his achievement is nevertheless considerable.
With a flowing narrative of myriad numerical groupings and geometric placements all randomly sequenced, the vitality of a large group led by Miranda Coney, and Adam Marchant, this dance abstraction fascinated by its infinite richness of choreographic ideas.
A work such as Symphonic Poem ensures the Australian Ballet will never become moribund as a creative force in Australian cultural life.
BRIAN CHALMERS
The Advertiser - Geelong, Australia, 24 Feb 1992

Singapore Dance Theatre Newsletter
Timothyís new ballet for the SDT,"The Breath of Time" once again reflects the choreographerís affinity for the East. "The dancers have become stronger technically and because of the Companyís exotic look, I have created 'The Breath of Time' which is a sort of an extension from 'Rainbow River'," said Timothy.
Timothyís new ballet is set to a unique score by the Australian group Sirocco. It synthesizes traditional Eastern instruments with contemporary electronic sounds. The result is a hauntingly Oriental yet modern composition which has inspired the movements in the ballet. A major consideration for Timothy whilst choreographing this piece was the capabilities and personalities of the dancers. "When you choreograph, you have to know the tools that you are working with and the dancers are the choreographerís tools. The SDT has an interesting mix of dancers who are able to do contemporary works as well as demanding classical numbers" said Timothy. This duality which he put to good use in his new work makes the SDT dancers unique and versatile, qualities which any dance company would be proud of.
Timothy is putting in a little more of his artistic personality in this new choreography by helping in the costume design, something which he admits he has never done before. His dedication to the piece saw him scouring the back alleys of Little India for that right material to be used for costumes in the ballet whilst Tai Chi sessions in the evenings have given the creative process that extra impetus.
"The Breath of Time" will be premiered on 29 November 1991 at Victoria Theatre as part of Festival of Dance 1991.
Extract from On Point
DANCE AUSTRALIA
My Name is Edward Kelly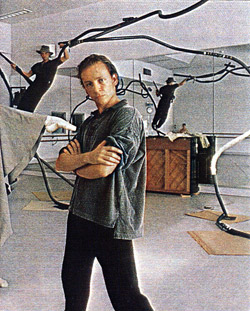 The outstanding work on the program was Timothy Gordonís My Name is Edward Kelly, another premiere of a new work by an Australian choreographer. This is a narrative ballet, covering a number of key events in Ned Kellyís dubious career, but it does not attempt to imitate reality in the traditional way. Sections that might have been ham-fisted pantomime in the hands of a more traditional-style ballet choreographer are instead convincingly restrained. Like its marvellously impressionistic set by Kenneth Rowell, it manages to suggest the action rather than simply act it out. Although there are some touches of melodrama, sentimentalism is generally avoided, and Gordon invests his characters with dignity without turning them into over-blown heroes.
The ballet is a wonderful melding of all aspects of theatre. The music, Port Essington, String Quartet No. 8 and Earth Cry by Peter Sculthopre, is so perfect it could have been written especially for the ballet. Its threatening discordance builds up to repeatedly overwhelm the musicís lyrical passages, thereby increasing the sense of inevitable doom. It is echoed by the ominous shadows of the constabulary that loom behind the canvas suspensions of the set. The wiggly white branches of the set in turn echo the coiling tension of much of the choreography, in particular a winding solo for Kelly and also his final, twisting death.
The work scents to bring out the best in the dancers - Steven Heathcote had a quiet authority as Kelly, Justine Miles and Greg Horseman were touching as Aaron and Mrs Sherrit, and Marilyn Jones brought her own special, gentle artistry to her role as Ned KellyĎs mother.
by Karen van Ulzen,
Dance Australia
JUNE - JULY issue in 1990, Page 45
Sonata for Seven
Australian Ballet in Covent Garden
Youthful Promise
The Australian Ballet were unnecessarily timorous. I think, in scheduling during the London season only one performance of a work by their latest choreographer, Timothy Gordon. His Sonata for Seven shows a bold use of movement and assured stagecraft, and suggests that he has a real gift worth persevering with.
Gordon, a New Zealander, began his dancing career with the Australian Ballet, but his choreographic style shows more the influence of the time he has spent with Netherlands Dance Theatre and the Frankfurt Ballet.
The music is Prokofievís Piano Sonata No 7. ably played by Nigel Gaynor. Gordon began by staging just the second movement for a studio performance and the balletís piecemeal beginnings show in the fact that each section explores a quite different style.
First comes an extremely aggressive situation among three men: Brett Morgan is the toughie, Ricardo Ella the victim, and Mark Pace the one who gets by thanks to natural cunning. This section is full of clashes, throws, and falls, all toughly and astutely handled.
The second movement shows a woman (Kathleen Reid) whose loneliness is alleviated for a time by a handsome stranger (Steven Heathcote) who may be real or imagined. Finally, there is a quick fiery relationship between Fiona Tomkin and David McAllister.
Each of the musicís three movements is reasonably faithfully reflected in the choreography.
What the ballet does not do is to draw them together into a coherent whole, although Hugh Colman's costume designs and William Akersís harsh lighting go a long way to disguise that.
J.P.
THE TIMES, FRIDAY AUGUST 5 1988
The New Zealand-born dancer and choreographer Timothy Gordon was commissioned to create Sonata for Seven from a choreographic workshop he held at the Australian Ballet School in 1986. The work was inspired by Prokofiev's Piano Sonata No 7. Gordon worked backwards from the third movement to the first movement, creating a piece that looks at human relationships through a range of moods and dynamics. Performed by the Australian Ballet, the work premiered at the Sydney Opera House in 1987. It also featured as part of the companyís 1988 Brisbane season at the Lyric Theatre, Performing Arts Complex, Brisbane.
The Dictionary of Performing Arts in Australia, Vol 2.
Atkinson, Knight, McPhee. Allen & Unwin, 1996.
Page 213. Sonata for Seven. Ballet.